In a decision dated 14 June 2021 the EUIPO's Board of Appeal confirmed that a sign representing a vehicle containing a fully charged battery with a cable is devoid of any distinctive character and cannot be a valid trademark.
Facts
Bridgestone Corporation applied to register a pictural representation of a car as a figurative European Union mark (depicted below) for goods in class 12, namely tyres, inner tubes, wheel parts for vehicles.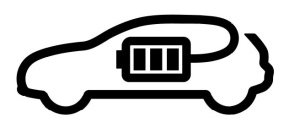 The EUIPO examiner issued a decision totally refusing the registration based on the finding that the sign applied for is commonly used and is customary in trade in relation to electric cars with a rechargeable battery. The goods applied for, which are tires for cars or other vehicles, would be identified by the relevant consumer, who is an average as well as a specialized professional, as tires specially designed and produced for electric cars or electric vehicles.
The applicant appealed.
Decision of the Board of Appeal
The applicant claimed that there is some ambiguity in what the battery in the sign represents and that the battery symbol itself can be represented in multiple different ways.
However the Board considered that the contested sign consists of an obvious and clear representation of a rechargeable electric vehicle, with no striking characteristics which would allow consumers to identify such a sign with a particular commercial origin. It does not depart significantly from the standard representation of a rechargeable electric vehicle and the Board considered that it will be immediately perceived as a general reference to rechargeable electric vehicles. Consequently, the consumer will invariably perceive it merely as a typical icon for cars or other rechargeable electric vehicles.
Therefore, the Board upheld the examiner's findings that the sign applied for lacks distinctive character within the meaning of Article 7(1)(b) EUTMR and is not eligible for registration as a trademark.
For more information or any question sgcr@sgcr.pt.