In a decision dated 21 October 2021 the EUIPO's Board of Appeal dismissed an appeal in which Zoom Video Communications, Inc  was seeking EU trademark registration for the blue icon that identifies Zoom, the well-known video communications software.
This decision is not final yet as appeals are still possible.
Facts
Zoom Video Communications, Inc  applied to register a figurative European Union mark (depicted below) for goods in class 9 (Downloadable software for use in the fields of video teleconferencing, network conferencing services, instant messaging services, video telecommunications, teleconferencing services, telepresence conferencing services, web conferencing services, and web messaging; Hardware, namely, digital video cameras, microphones, and digital video display monitors) and related services in classes 38 and 42.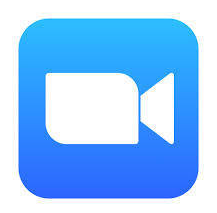 The EUIPO examiner issued a decision totally refusing the registration essentially based on the finding that the sign applied for is devoid of any distinctive character since it depicts a simplistic version of a video camera which the relevant consumer will assume to be a simple representation of the goods themselves. Furthermore, the round-cornered square background of a changing colour blue serves solely decorative purposes.
The applicant appealed.
Decision of the Board of Appeal
The applicant argued that the contested goods and services are aimed mainly at users of computer applications in the field of multi-channel communication and not at users of cameras or video cameras.
However the Board was not convinced in the light of the Google searches for "digital video camera pictogram", as well as "digital video camera", that the Board itself conducted. The Board added that the relevant consumers do not perceive simple pictograms/icons of apps or included in apps as being inherently indicative of commercial origin without a further indication or specific foreknowledge. Consequently "the Office cannot allow the technical monopolization of a sign that must be kept free for all the operators on the market".
The applicant also claimed that a very similar mark,
 , in classes 9 and 38, was deemed inherently distinctive and accepted by major Offices in other EU Member States, such as France, Italy, Sweden, Benelux countries and Germany.
The EUIPO stated that the decision is line with the Office's practice regarding icons/pictograms and recalled that the European Union trademark regime is an autonomous legal system. Therefore, "the EU Office is not bound by a decision of a Member State according to which the same sign may be registered as a national trademark". The decision may be appealed.
For more information or any question sgcr@sgcr.pt.